These best Brisbane wedding celebrants are engaging storytellers. They know how to take your guests to your love journey. And, they will intuitively set the ambience of your wedding in your preferable way. Whether it is fun or a solemn ceremony, they will nail it. Here is our list of best Brisbane marriage celebrants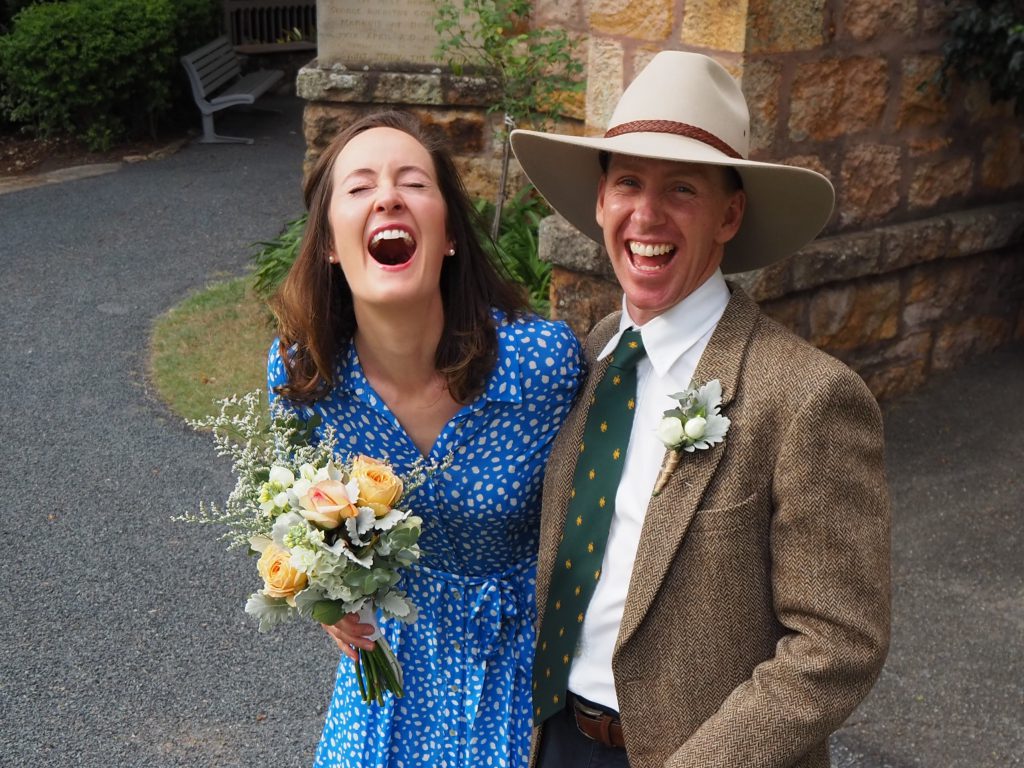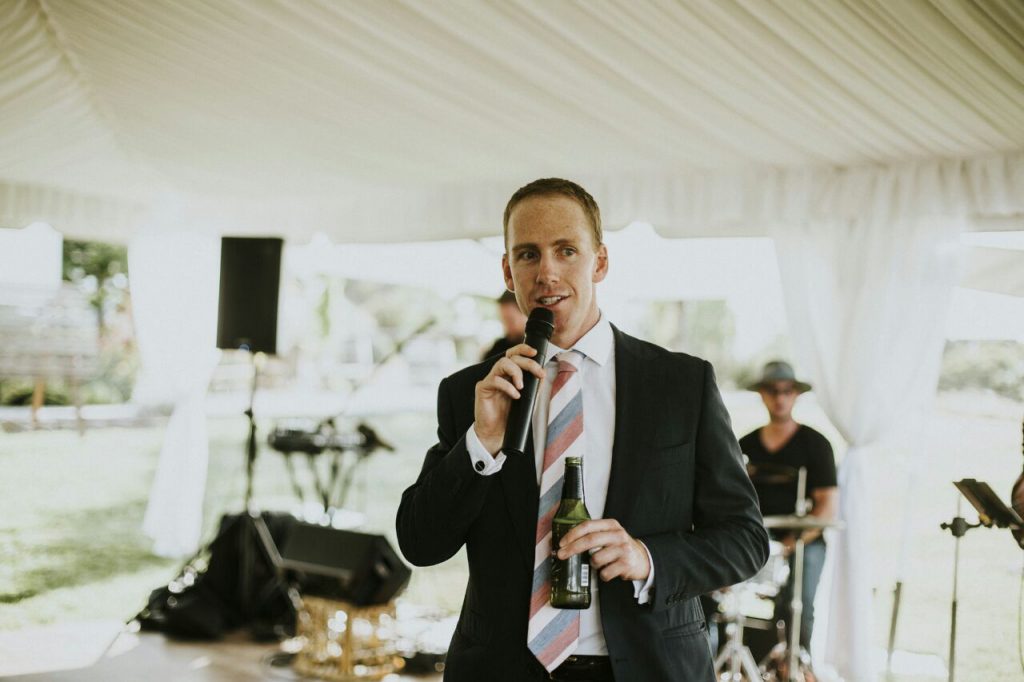 Andy Minahan – Marriage Celebrant in Brisbane – Parties2Weddings
Andy is one of the Brisbane marriage celebrants that love a laugh. Thus, Andy is perfect for couples who appreciate fun weddings. He will make your guests enjoy the ceremony with the love story, some smiles and laughs. Andy is based in Brisbane. Yet, travelling outside the city is not a big deal for him. Whether you plan a registry-style wedding or bigger wedding ceremony, Andy will do the trip for you. His relaxed and friendly personality make him a favorable reception host.

Need an extra hand to sort a venue for you? Our Wedding Concierge will be happy to do it.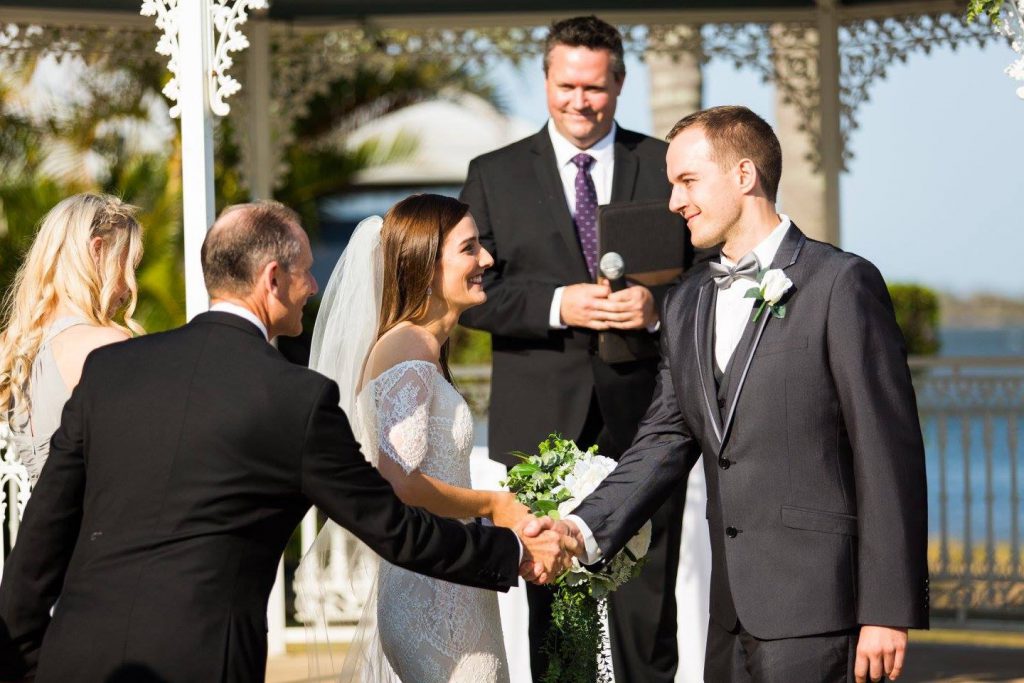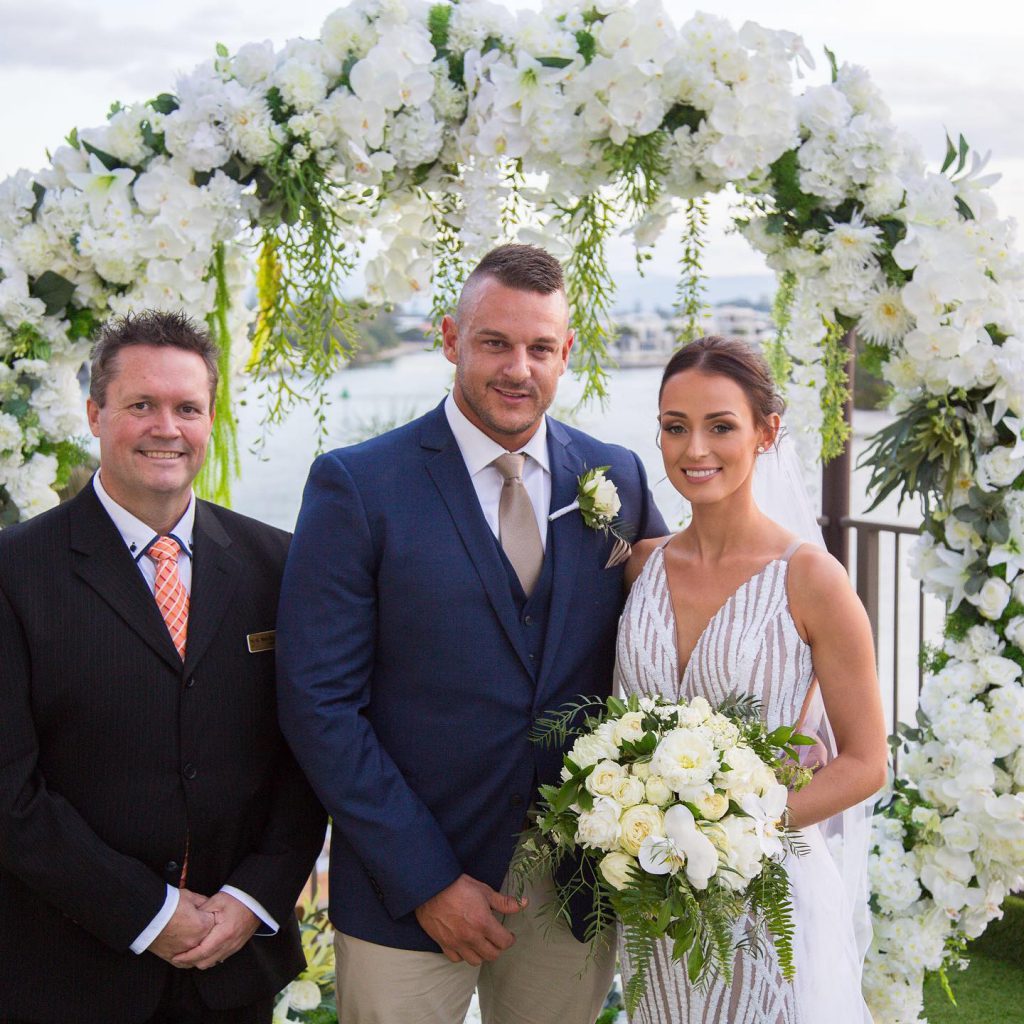 Marriage Celebrant in Brisbane – Mark Reynolds -Parties2Weddings
Mark Reynolds is one of the charming Brisbane marriage celebrants. He has years of experience in public speaking, for example, in theatre production. He is a also registered Australian Civil Celebrants. Mark knows that every couple is different. Thus, he loves to discuss the arrangement with the couple. So, he can perform the ceremony . Mark's service covers Brisbane, Logan and Gold Coast. Wedding, Naming, elopement, all ceremonies will be handled professionally by Mark Reynold. In other words, Mark suits couple who prefer to have some flexibility in the ceremony.

Check also Best Marriage Celebrants in Melbourne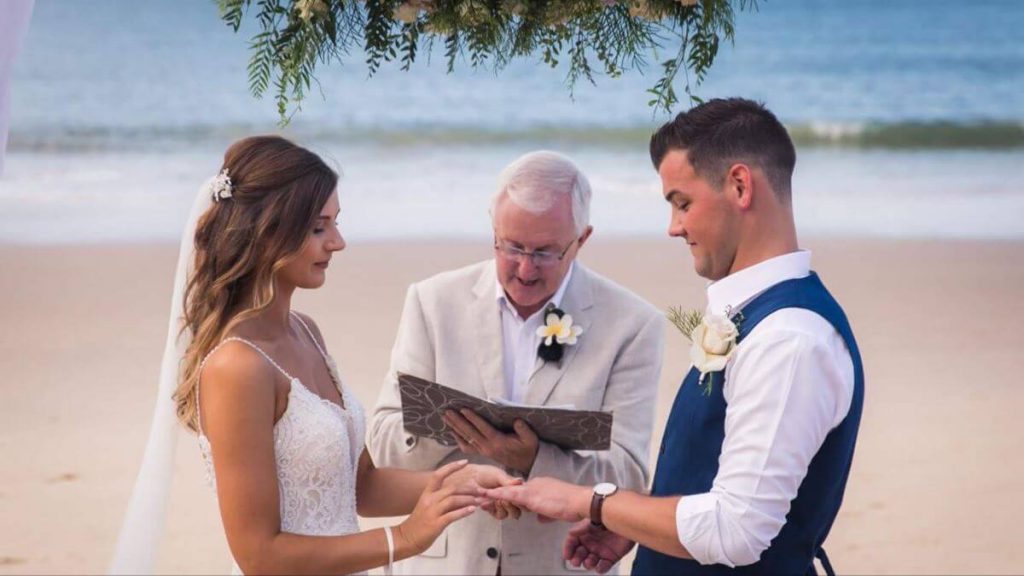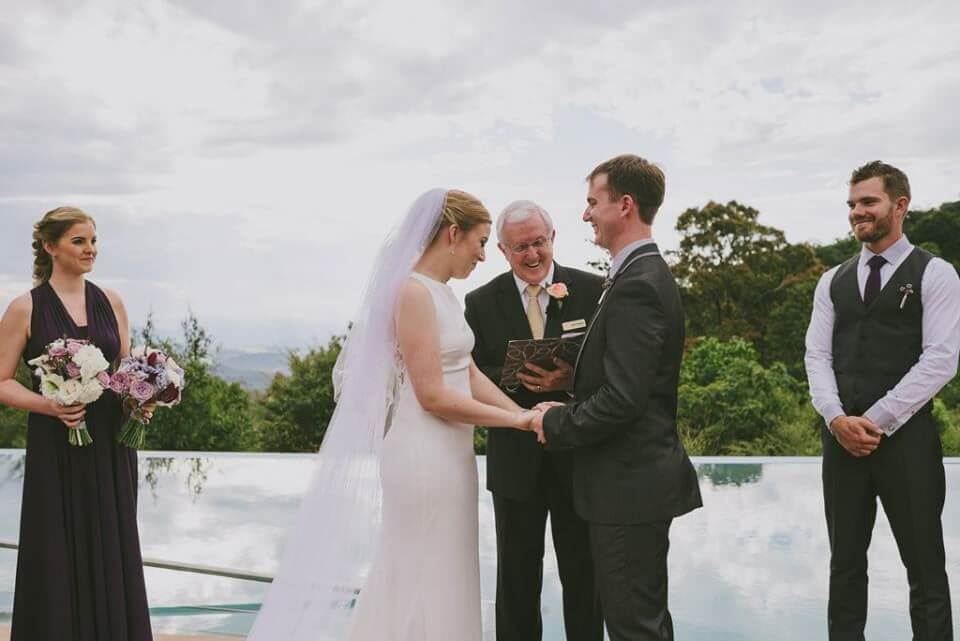 Geoff Mazlin – Marriage Celebrant in Brisbane – Parties2Weddings
His experience in working as a sales person, lecturer, and public speaker makes Geoff Mazlin knows how to do personal approach. He is a listener who always digs out information from the brides and grooms to be. Then, he will work on the information and turn them into an interesting story. He would be happy to the state, and all over Australia. Any kind of wedding is not an issue for him, whether it is an intimate or same-sex wedding. In brief, Geoff Mazlin is one of the warm Brisbane marriage celebrants that you will be comfortable with.

Check also Best Rustic Wedding Venues in Brisbane, QLD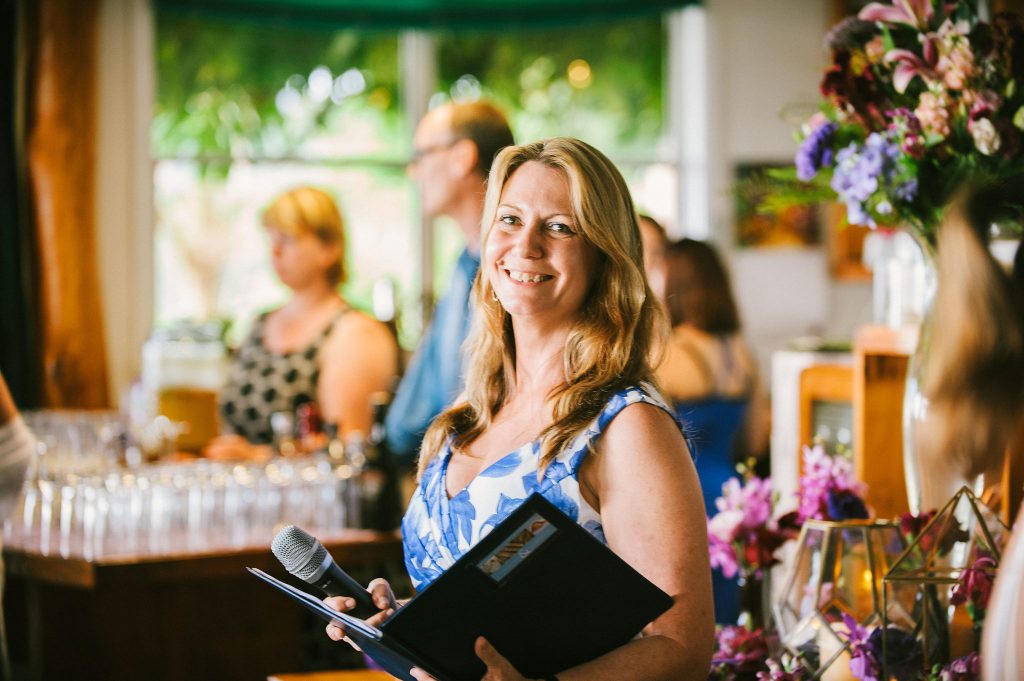 Tracey Moyle – Marriage Celebrant in Brisbane – Parties2Weddings
For Tracey Moley, adjusting the stories based on the couples 'personality is essential. Why? First, it will make the ceremony personalized. Second, as your guests know your characteristics, the stories will be easy to follow. Thus, she knows how to work on a themed wedding. Sometimes she needs to adjust the ceremony based on the theme, but she loves it. Tracey specializes in creating a warm, fun and personal atmosphere to your wedding. Besides themed weddings, she can perform same-sex, elopement, themed wedding, traditional. Her service covers Brisbane, Gold Coast, Sunshine Coast. In brief, if you dream about a personal wedding, Tracey Moley will help you as your wedding celebrant in Brisbane.
Check also Planning a Destination Wedding during Pandemic
5. Michael Janz, The Passionate Officiant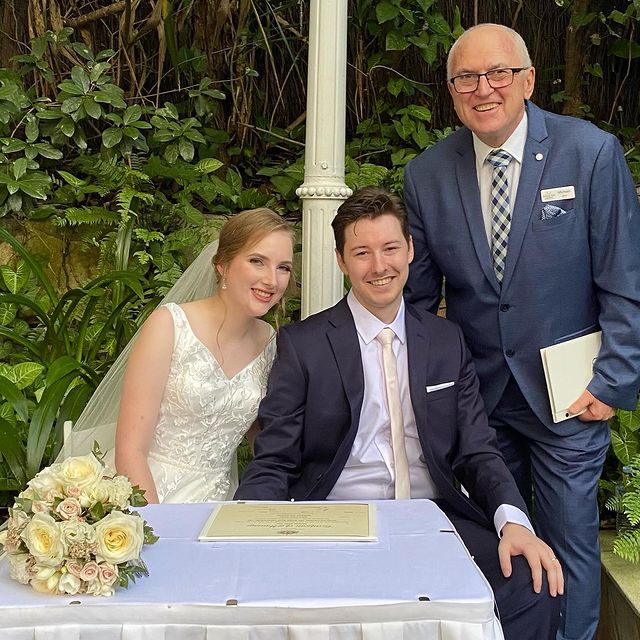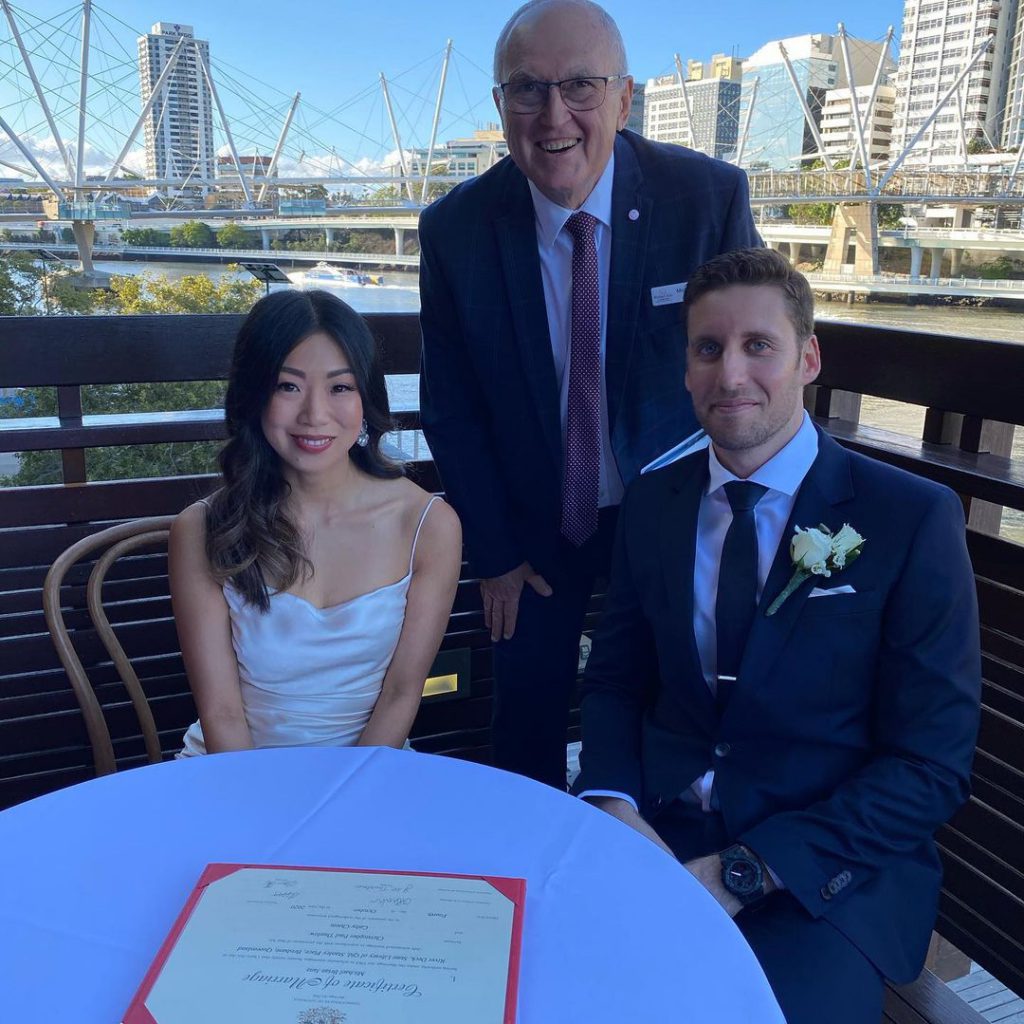 Wedding Celebrant- Michael Janz  – Parties2Weddings (Image:Instagram/@michaeljanzcelebrant)
Michael Janz is a passionate, personable, and professional wedding celebrant in Brisbane. His positive energy is so contagious that peoples love him to be an MC. Michael can perform renewal vows, same-sex weddings, naming ceremony, and traditional weddings. With his experience, he will adjust to the couples' plan. Michael performs love celebration in Brisbane and Southeast Queensland. If you are thinking to have a warm vibe of the ceremony, Michael Jenz is happy to perform it for you.
In summary, these top-picked wedding celebrants in Brisbane will create your ceremony enjoyable and relaxed. Your wedding in the sunshine state will be exciting.
Why Wedding in Brisbane?
Brisbane is a marriage of historic, industrial and modern city. Grand classic buildings amid calm urban surrounding are ubiquitous in this capital of Queensland.  In the evening, the Brisbane River will reflect the city lights and create a dramatic, romantic setting. Besides the unique ambiance, couples love this on-the-river city because of the weather. It is mostly sunny throughout the year.
What's More?
Parties2Weddings is the largest Australian-based Wedding Marketplace. We help couples to plan as well as booking their destination wedding on the platform. We connect couples to over 40,000 vendors across Melbourne, Sydney, Queensland to Bali.
Compare prices & book all wedding services on Parties2Weddings Marketplace
3 steps to compare prices and book all wedding services on Parties2Weddings Marketplace:
1. Select Location/Region
2. Chose the service
3. Chose the budget range.
Planning to celebrate in Bali?
Check our amazing Bali Wedding Packages & Bali Experiences? Check our Amazing Deals & Options:
Parties2Weddings provides Wedding Concierge to help couples to finding and shortlist venues. We also assist couples to customize packages to meet special requirements. Above all, the professional team has great experience will help you to prepare for your big day.
Contact our Wedding Concierge, to connect you to vendors. We work with professional Photographers, DJ, Fireworks, Fire-dance. Fill in the Quote request/ Enquiry form here to continue the process.