Finding affordable wedding venues in Melbourne, Victoria, might be challenging. But if you have a tight budget but thinking to save more for honeymoon, you can consider it. Especially, venue will be one of the major expenses on your wedding budget. Thus, we share the list of best wedding venues under $100 per person in Melbourne, Victoria. We would love you to save it for things that you want. These Melbourne, Victoria,  budget-friendly venues will give you memorable experience.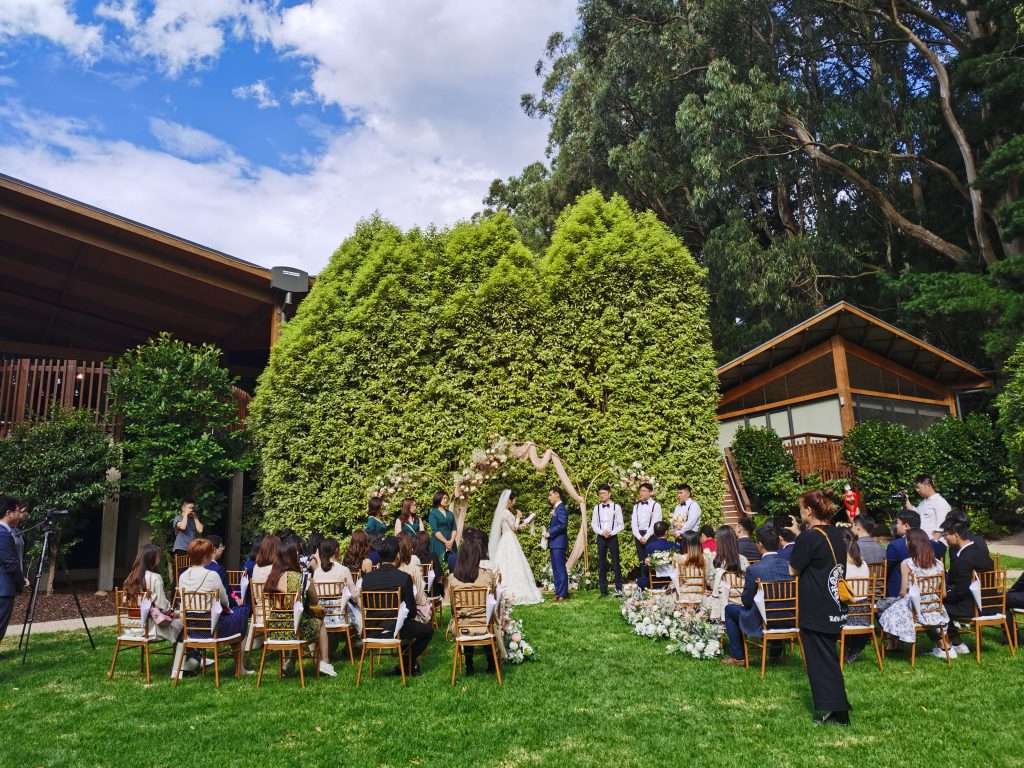 Best Affordable Wedding Venue in Melbourne, Victoria – Olinda Tea House
Olinda Tea House & Restaurant is a restaurant highlighting high tea and dining experience. Nestled in the heart of Dandenong Ranges, it is only an hour away from Melbourne. The venue capacity is up to 120 seated guests. The indoor venue has floor to ceiling windows. And the doors overlooking the gardens and bushland. The beautiful view outside the room boosts the mood of the event. The main lawn can function as an outdoor space for your ceremony. Whether it is outdoor and indoor, the staff will treat you with hospitality. They will work together to make your wedding flawless. The reception at Olinda Tea House starts from $85 per person.

Check also Glamping Wedding Venues in Melbourne, Victoria
2. Jardin Tan – Budget-Friendly Wedding Venue

in Melbourne, Victoria starts from $65 per person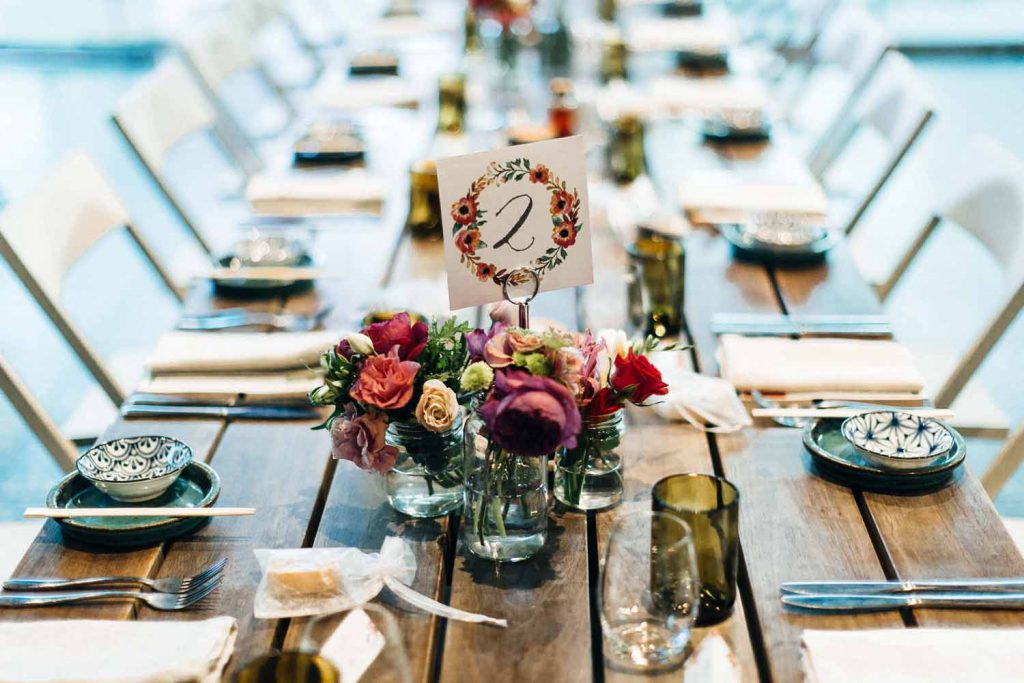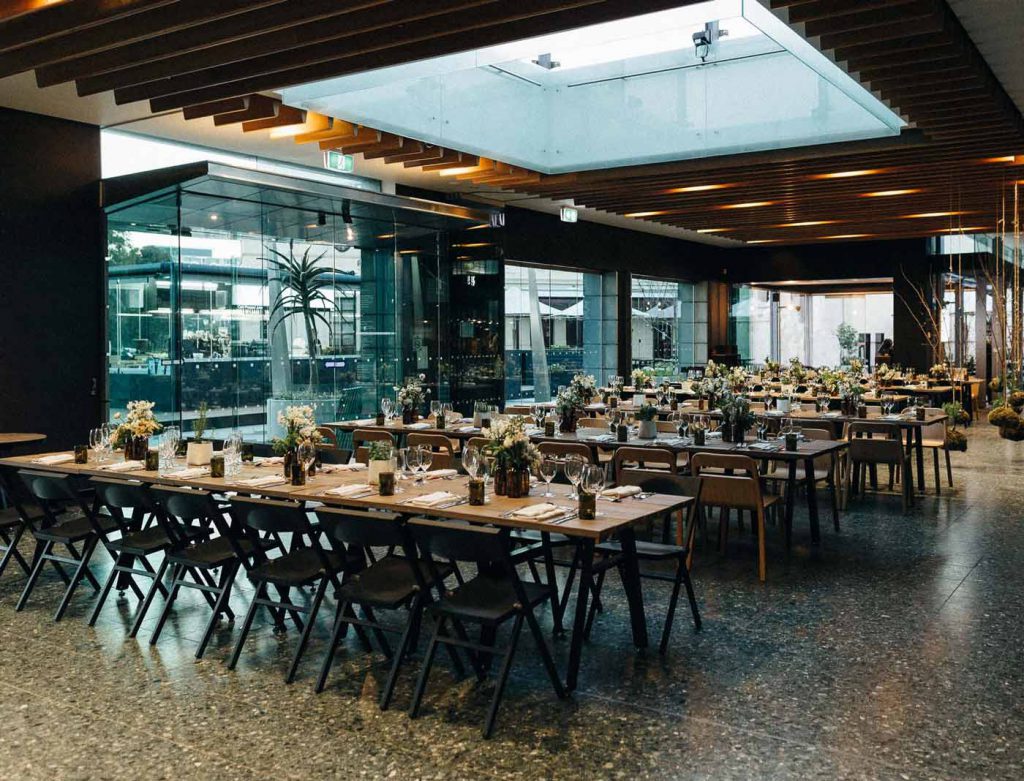 Jardin Tan explores organic and locally sourced products in Melbourne. Thus, the menu will change seasonally adjusting the availability of the ingredients. Jardin Tan highlights the dynamic fusion of French- Indochina flavor. Located on the edge of Melbourne CBD, the glasshouse restaurant has chic design. It suits minimalist-themed and colorful wedding celebrations. A dedicated team is available to ensure  you will have an unforgettable wedding. The wedding reception at Jardin Tan costs at $65 per person. In brief, it is an affordable wedding venues in Melbourne, Victoria, that serves farm-to table dishes.
Check also Top Wedding Venues in Melbourne CBD
3. Bulong Estate Winery –

Budget-Friendly Wedding Venue

starts from $74 per person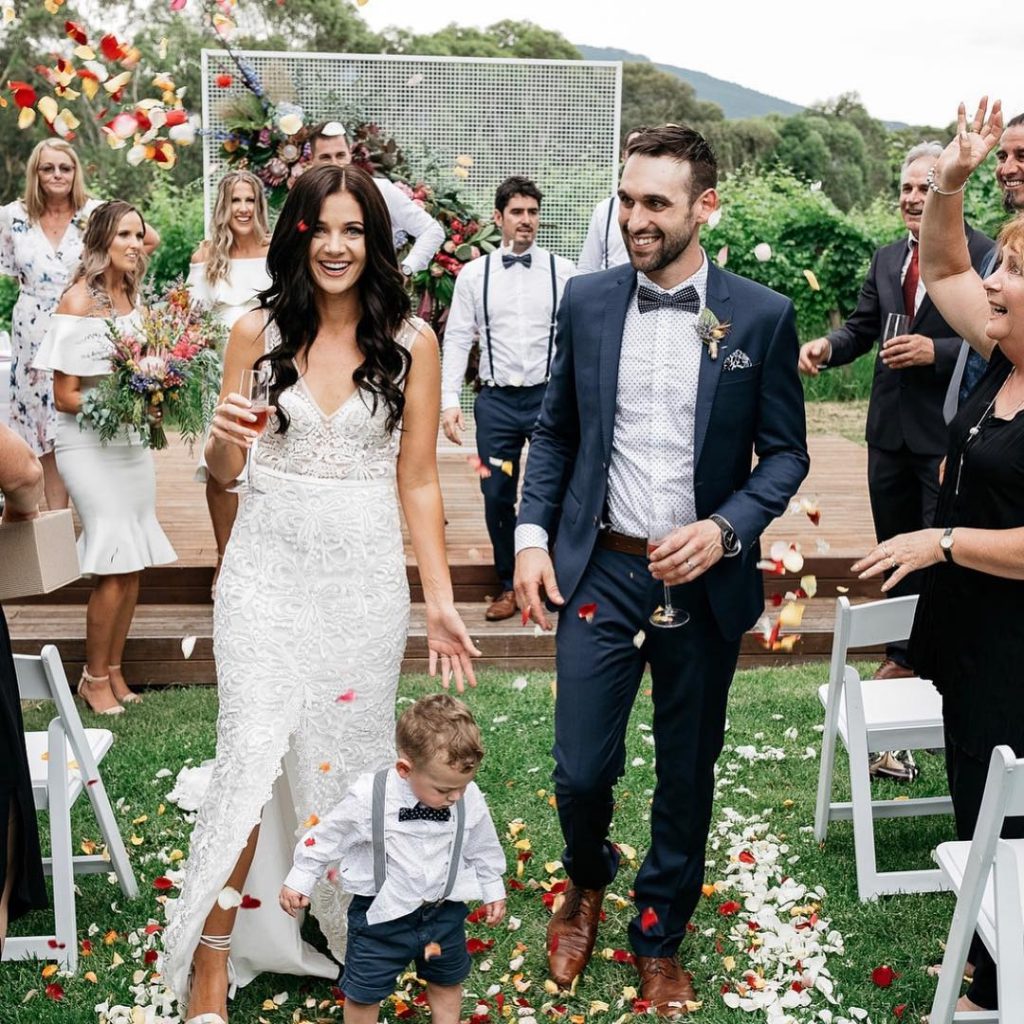 Image: Instagram/beherebenow_photosfilms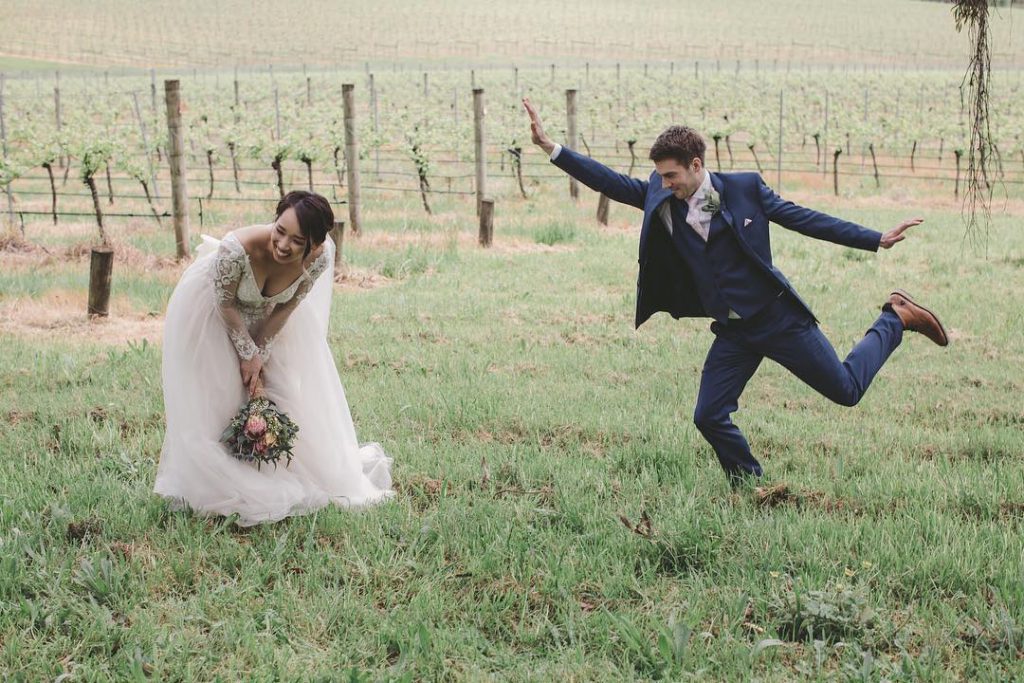 Image: Instagram/@douxweddingcorp
Set in Yarra Valley, Bulong Estate Winery features the view of vineyards, hills, and a mountain. The combination creates a beautiful backdrop for your wedding. To complete the experience, the chef will create a special menu for you. He will work on your requests, whether it is plated, seated, food truck reel, or canapés. The plus for getting married at Bulong Estate Winery is that wines come as part of your package. Beers and ciders are available too. Monica, the wedding expert will assist you with the details. Bulong Estate Winery reception is at $74 per person. In other words, Bulong Estate Winery is a budget-friendly winery wedding venue in Melbourne, Victoria.
Check also Intimate Winery Wedding Venues in Melbourne, Victoria
4. De Bortoli Wines –

Affordable Wedding Venue

starts from $85 per person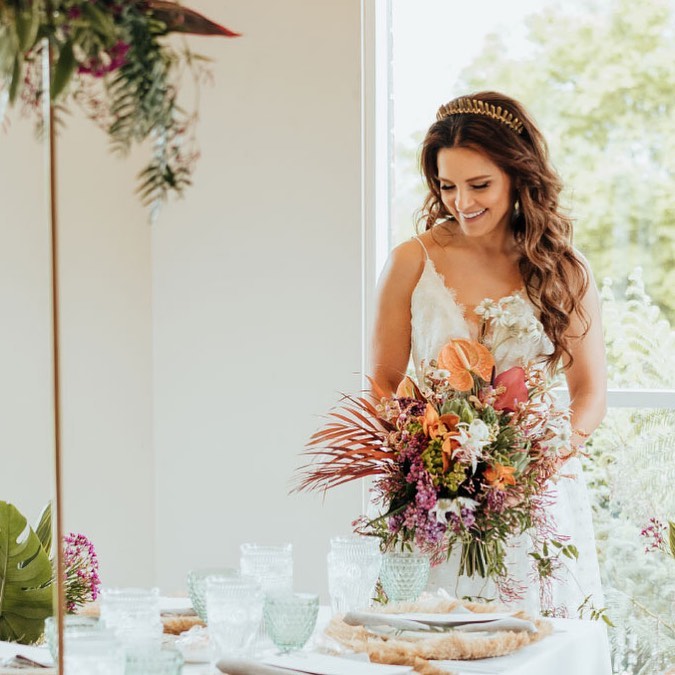 Image: Instagram/@selenamclarenphotography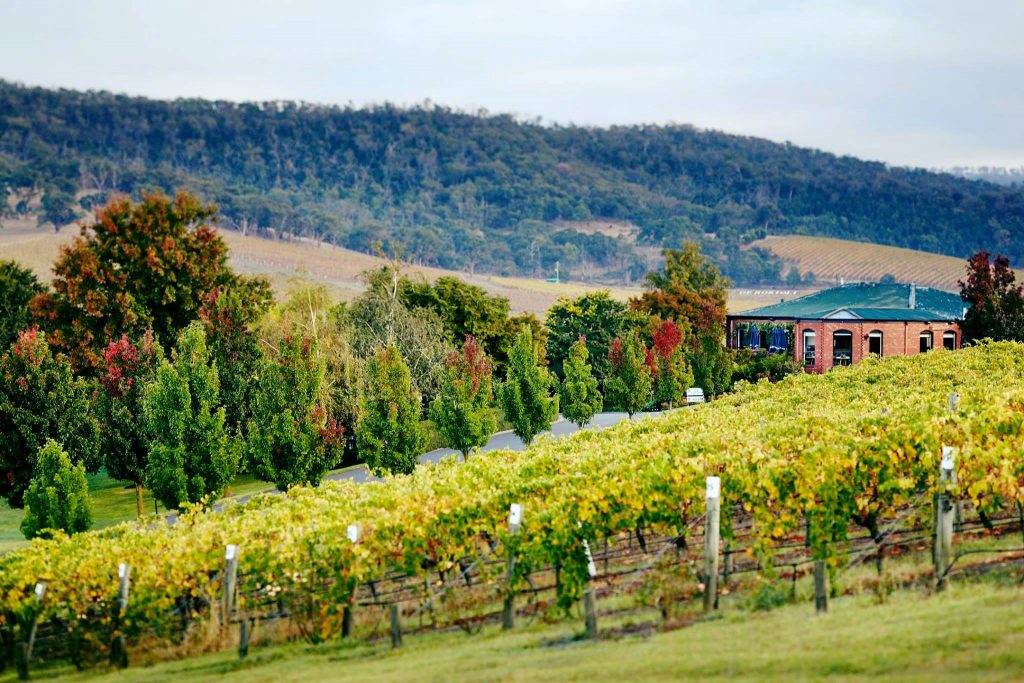 De Bortoli Wines is a winery as well as restaurant in Dixon's Creek. It is 45 minutes to Melbourne CBD. De Bortoli Wines carries a family story of immigrants. It offers a beautiful space of vineyards and a distant mountains of Great Dividing Range. The combination creates a perfect setting for your wedding. Also, there are a lot of spots for you to capture your wedding pictures. The capacity of the restaurant is up to 100 persons for seated arrangement. An experienced wedding coordinator can tailor your food and drink packages. In brief, The Bortoli Wines is one of Melbourne affordable wedding venues with vineyards view under $100 in Melbourne, Victoria for those who enjoy elegant setting and wines.
5. Arco Restaurant –

Affordable Wedding Venue

starts from $60 per person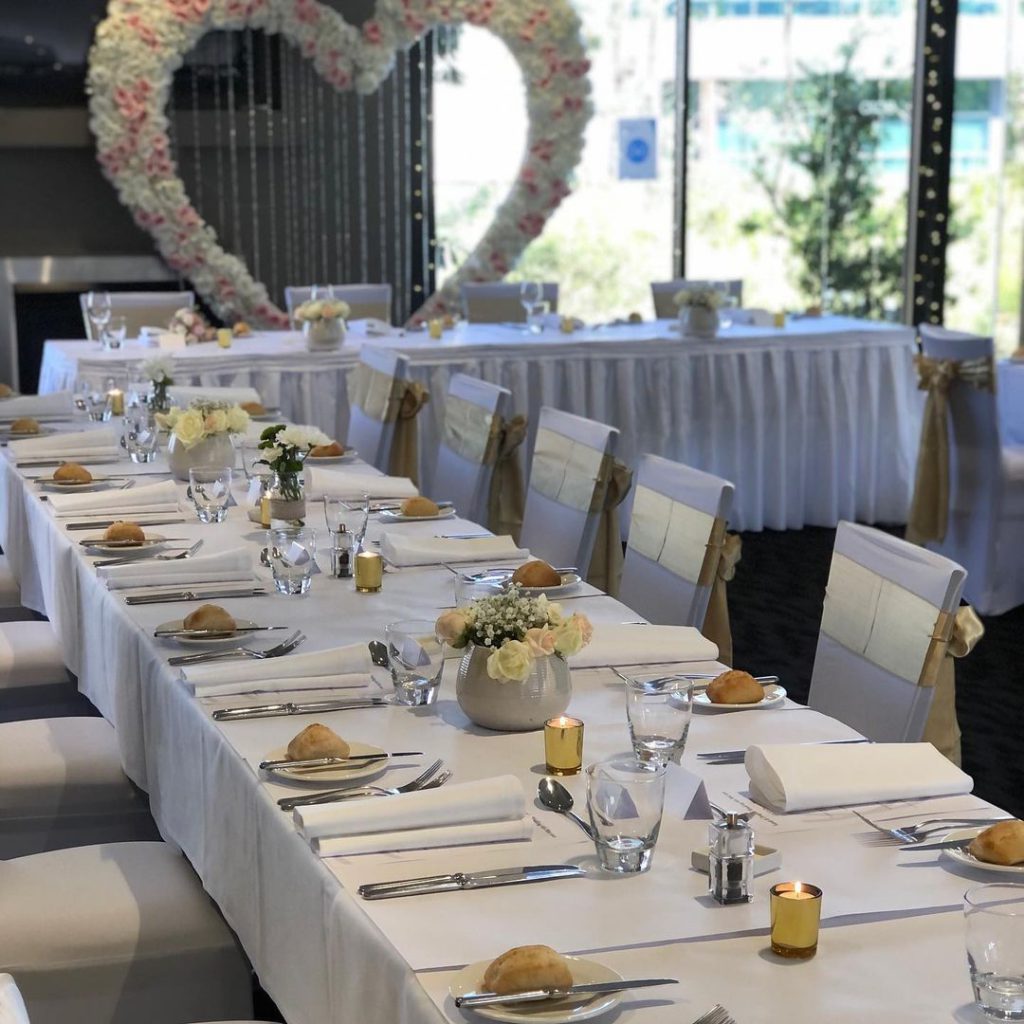 Image:Instagram/@arcocafe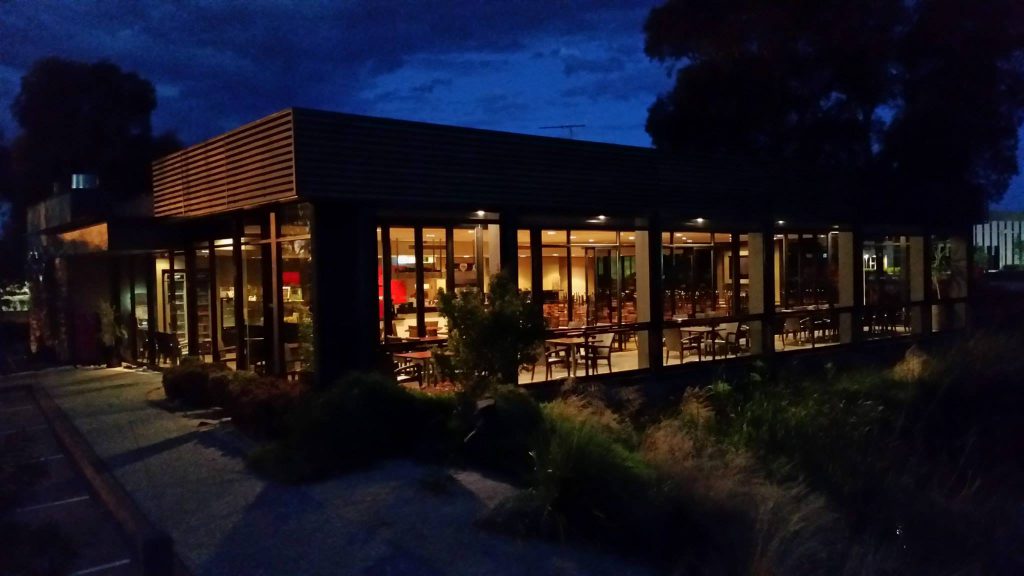 Arco Restaurnat is a contemporary Italian restaurant. It is about 45 minutes away from the hustle bustle of the Melbourne. Arco Restaurant is blessed with the lakeside oasis and natural birdlife surrounds it. The glass lunchroom makes all the beauty outside more visible. It creates a perfect indoor venue for your wedding. The restaurant suits an intimate wedding or larger up to 120 people. Whether you plan to have a dinner or a canapé, Arco Restaurant will serve the freshest dishes and bites for you. The venue is a place for those who indulge in food and wine. In other words, Arco Restaurant will suit those who seek for a pleasant gastronomy experience.

To sum up, Melbourne, Victoria, has some budget-friendly wedding venues. But it does not mean those venues have low standards of service. They will deliver the best for you and make sure your day will go smooth.
Why Wedding in Melbourne?
Melbourne is the capital of Victoria. Unique venues dot this city, for examples, cafes with rustic concepts and waterfront venues. In addition to it, Melbourne is in the proximity with regions known for the natural environments. In brief, if you are looking a wedding venue in the city, there are tons of choices.
What's More?
Parties2Weddings is the largest Australian-based Wedding Marketplace. We help couples to plan as well as booking their destination wedding on the platform. We connect couples to over 40,000 vendors across Melbourne, Sydney, Queensland to Bali.
Compare prices & book all wedding services on Parties2Weddings Marketplace
3 steps to compare prices and book all wedding services on Parties2Weddings Marketplace:
1. Select Location/Region
2. Chose the service
3. Chose the budget range.
Check also All-Inclusive packages coordinated by Parties2Weddings wedding concierge
– Elopement Packages
– Wedding Packages
Planning to celebrate in Bali?
Check our amazing Bali Wedding Packages & Bali Experiences? Check our Amazing Deals & Options:
Parties2Weddings provides Wedding Concierge to help couples to finding and shortlist venues. We also assist couples to customize packages to meet special requirements. Above all, the professional team has great experience will help you to prepare for your big day.
Contact our Wedding Concierge, to connect you to vendors. We work with professional Photographers, DJ, Fireworks, Fire-dance. Fill in the Quote request/ Enquiry form here to continue the process.